Description
10oz. lg. handmade candle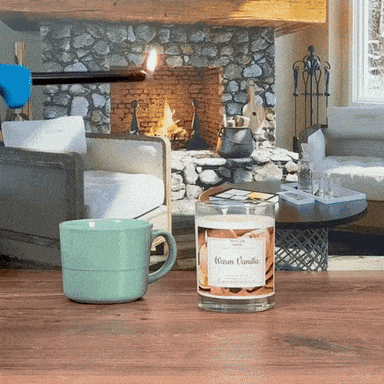 Bring a sense of warmth and comfort to any room with our Vanilla scented candle. Made from soy wax, our candle is infused with a cozy vanilla scent that will fill your home with a long-lasting, highly scented aroma. Perfect for relaxing after a long day, or setting the mood for a cozy night in.
Add it to your cart now and experience the inviting scent of vanilla in your home.
When you place a purchase of $30  or more you will receive a free LIP BALM.
Handwritten Thank You Card
Shop History
Proper Wood Wick instructions
Business Card
Free Samples
Sweet Treats
GRAB YOUR DISCOUNT:
Sign up for my mailing list and be the first to hear about new collections,
members only discount codes and sales.
Scent Profile:
Scent Throw: Light/Medium
How long will the fragrance last? 40-50 hours
How heavy is it? 10oz. pure clean soy wax
What color is it? the natural color of the wax
What's in the fragrance?  natural and synthetic fragrance oils
Your choice of Cotton Wick or Wood Wick
Suggested Uses: Give her a heartfelt birthday gift she will never forget with this charming farmhouse candle.
Dimensions of Glass Jar: 3.5×4.25
Total Weight of candle with Jar: 22.5oz
We Love Hearing From Our Happy Customers:
Rachel F.
Love love love all of Joy's wax melts and candles! I now have about 30-40 of her products and I'm a forever customer for sure! Thank you for yummy products Joy! 🥰
Rebecca B.